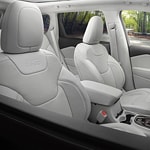 The 2023 Jeep Cherokee is a versatile and rugged SUV designed to handle any terrain. But it's the interior features that make it stand out from the competition. Here's a closer look at what you can expect from the 2023 Jeep Cherokee's interior.
Comfort and Convenience

The 2023 Jeep Cherokee is designed for ultimate comfort and convenience, with features like heated and ventilated front seats, a heated steering wheel, and dual-zone automatic climate control. The spacious cabin and ample cargo space make this SUV perfect for long road trips and daily commutes.
Advanced Technology